Horsemanship program becoming a reality

By Joanne Holmberg | December 17, 2008
Arena begins construction at Horseshoe Trails Elementary School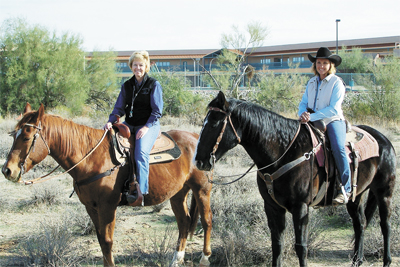 CAVE CREEK – As anyone involved with riding, owning or training horses knows, building a relationship with a horse can be instrumental in the development of character in children. The goal of a new equine-guided education program called TRRFCC Horsemanship at Horseshoe Trails Elementary School (HTES) in Cave Creek is to provide students the opportunity to build character through a hands-on equine experience.

On Saturday, Dec.13, stakes were set for the TRRFCC Horsemanship arena at HTES. Ground will be cleared this week in preparation of construction. The initial arena will be 90' X 120' with the goal to expand it to be able to use for events such as roping competitions.

The TRRFCC Horsemanship program is based on the 'Six Pillars of Character' – Trustworthiness, Respect, Responsibility, Fairness, Caring, and Citizenship. The program will begin classes with students in Fall 2009. According to HTES principal, Janiene Marlow, "Character is something you take with you wherever you go and our students will have the joy of learning responsibility and caring with the help of horses and certified horse trainers. Strength of character is one of the most valuable assets a child can acquire with interaction from a horse."

TRRFCC Horsemanship will be developed and directed by Jodi Scott of Jodi Scott's School of Horsemanship in partnership with the school. Jodi is a Certified Instructor with a lifetime of equine knowledge and experience. She operates a boarding and training facility with 20 lesson horses in close proximity to HTES. Jodi grew up competing in rodeos, participating in 4-H and working her family's riding stables in Arizona and Wyoming. Jodi says, "Bringing horses into the Cave Creek School Curriculum is so exciting. I feel the horses and the Six Pillars of Character are the perfect combination to help create great citizens."

No school funds are being used to develop the program or the arena. The program will only be funded by grants and sponsors. The first fundraiser was held Nov. 5 at Harold's Corral in Cave Creek and the community showed great support with 60 local sponsors, raising $9,000. The goal is to raise $20,000 for start up costs, including construction. Donations of any kind, including tack, will be greatly appreciated. A great way to support this program would be to use the tax-credit offered by the state. Up to $400 per household can be directed specifically to TRRFCC Horsemanship. Visit www.ccusd93.org for more details on the tax-credit program.

For more information about the TRRFCC Horsemanship program contact Liz Covert at
480-272-0929 or Janiene Marlow at 480-272-8505.

Courtesy Photo:
Janiene Marlow (left), Principal of Horseshoe Trails Elementary School, and Jodi Scott of Jodi Scott's School of Horsemanship on the site of the new arena for the TRFCC Horsemanship program.