Soweto Gospel Choir to perform Holiday Concert
December 17, 2008

"African Spirit" Dec. 22, 7:30 p.m. at Celebrity Theatre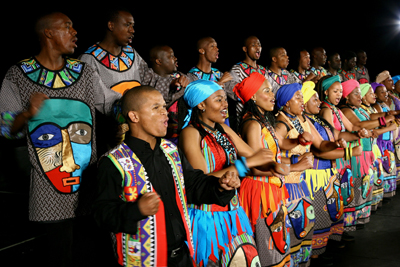 SCOTTSDALE – The Grammy Award-winning Soweto Gospel Choir will perform at the Celebrity Theatre on Monday, Dec. 22 at 7:30 p.m. as part of the Scottsdale Center for the Performing Arts' 2008-09 "Detour" Season. The concert is presented with support from Clara Lovett and Benjamin F. Brown IV. The Steinway piano is available for this performance through the generosity of Steinway of Phoenix.

The Soweto Gospel Choir's exuberant vocal performances, athletic dance numbers and traditional attire create an unforgettable concert experience. In this special program, the choir will perform selections from its acclaimed "African Spirit" album, a warm and exotic fusion of traditional South African spiritual and pop music, American gospel and popular inspirational songs from around the world. The group will also perform unique renditions of holiday classics.

Founded in 2002, the Soweto Gospel Choir has become an international musical phenome-non, bringing its heartfelt and inspirational message of love, joy and hope to audiences around the world. Singing in six of South Africa's 11 official languages, the choir is comprised of the best singers from Soweto's churches and populace and has earned the praise of former President Nelson Mandela and Archbishop Emeritus Desmond Tutu, who serves as the choir's patron.

The Soweto Gospel Choir has performed with internationally renowned artists, including Diana Ross, Celine Dion, Red Hot Chili Peppers, Bono of U2, Peter Gabriel and Annie Lennox, and has appeared on NBC's Today Show and The Tonight Show with Jay Leno. Among its many accolades, the group earned a Grammy Award in the "Best Traditional World Music" category in 2007 for its album Blessed, followed by a second Grammy Award in 2008 for African Spirit.

Soweto Gospel Choir is an ambassador for 46665, Nelson Mandela's AIDS awareness initiative, and supports its own charity foundation, Nkosi's Haven Vukani, which raises funds for organizations that assist AIDS orphans.

Celebrity Theatre is located at 440 N. 32nd St., in Phoenix. Tickets are available from the Scottsdale Center for the Performing Arts box office at (480) 994-ARTS (2787) or at www.scottsdaleperformingarts.org.

Courtesy Photo/Ruphin Coudyzer
The internationally known Soweto Gospel Choir sings in six of South Africa's 11 official languages and is an ambassador for 46665, an AIDS awareness initiative.