"Nutcracker & the Mouse King" set for Dec. 19 & 20
December 10, 2008

Holiday classic performance to be at Cactus Shadows Fine Art Center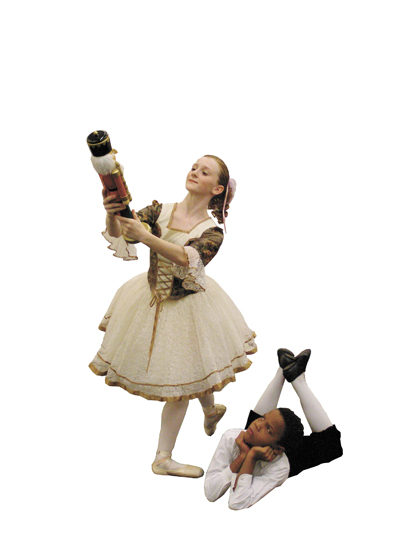 CAVE CREEK – Arizona School of Classical Ballet (ASCB), under the direction of Nadya Zubkov, is joining forces with Desert Foothills Theater (DFT), a division of the Foothills Community Foundation, to bring the "Nutcracker & the Mouse King" to the North Valley. The spirited production takes place at 6 p.m. on Friday, Dec. 19 and on Saturday, Dec. 20 at 12:30 p.m. at Cactus Shadows Fine Arts Center, 33606 N. 60th Street.

Meribeth Reeves, DFT managing director, said this will be the first production in which students of DFT Gecko Teatro will collaborate with the Arizona School of Classical Ballet.
"This is The Nutcracker as you have never seen it before," Reeves said. "From the moment you enter the lobby, DFT actors and students from DFT Gecko Teatro will welcome you to the Stahlbaum's winter party; take you to Drosselmeyer's workshop; experience with you the battle between the mouse king and the Nutcracker; and travel with you to the Land of Sweets where all will enjoy wonderful ballet performed by Arizona School of Classical Ballet. It is a multi-faceted holiday performance everyone will love."

Based on the story by E.T.A. Hoffman, Act I is adapted by Lori Vander Maten, director of DFT Gecko Teatro, and will feature DFT and DFT Gecko Teatro actors. Act II will be performed to music by Tchaikovsky, choreographed by ASCB faculty and performed by ASCB students.

Tickets cost $17 per adult and $10 per child. To reserve tickets, call (480) 488-1981 or visit azclassicalballet.com. Tickets may be purchased by mail or in person at the Arizona School of Classical Ballet studio for $2 off per Adult ticket. ASCB studio is located at 20820 N. 25th Place, Suite #110-112, Phoenix.

For more information about this production or ASCB classes, call (602) 494-3400.

Season subscriptions are still available for Desert Foothills Theater's 2008-2009 exciting line-up of theatricales and Main Stage shows. A complete list of DFT Gecko Teatro classes is also available.

Call (480) 488-1981 or visit www.desertfoothillstheater.com.