Blu Burger Grill on Jomax now serving breakfast
By Andrew Gesell | December 10, 2008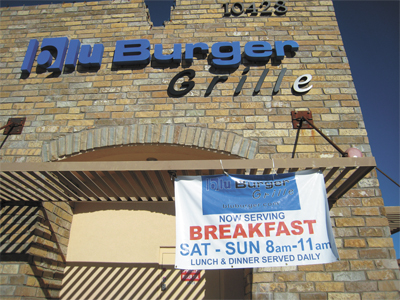 SCOTTSDALE – One great place to stop for a special weekend breakfast in North Scottsdale is the Blu Burger Grill. Frequent customer requests prompted Blu Burger, known for its lunches and dinners, to add breakfast on Saturdays and Sundays at their Jomax location (10428 E. Jomax Road, Suite 101, Scottsdale).

Famous with locals for its excellence in food and great service, they now serve a delectable menu consisting of several kinds of ingeniously crafted omelets, a traditional breakfast consisting of bacon and eggs, and French toast served with syrup and bananas. All entrees are served with potatoes, tomatoes and toast.

"One of the best breakfasts I've ever had," said Sue Borman, a local Scottsdale resident. "The people here make you feel very welcome."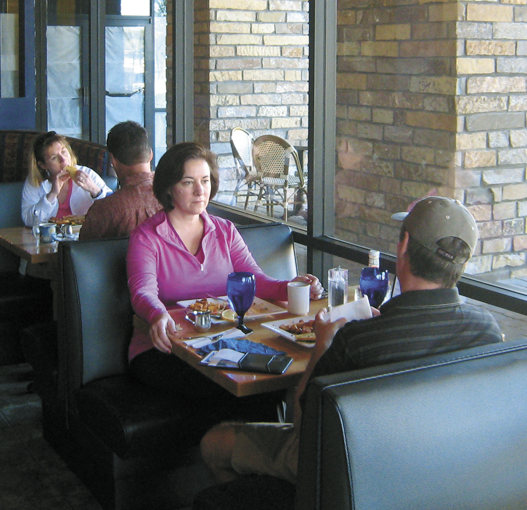 I can honestly say the Blu Omelette, one of the eight breakfast selections, was delicious. The blue cheese, caramelized onions and sautéed mushrooms truly complimented each other enough to make one of the best omelettes I've ever eaten.

The Mexican Omelette has been a popular choice among the customers.

"The Mexican Omelette is my favorite," said Beverly Balcer, a Cave Creek resident who owns a business nearby. "I come here twice a month, I love it," said Balcer.

Balcer also admitted that her husband comes to Blu Burger five days a week for lunch, and that it will be great for the community to have the new breakfast menu available.

"It's very exciting for the area – local people now have an option for breakfast," said Balcer.
Blu burger now stands out as one of the few restaurants serving breakfast in the area, plus the food is made fresh and health conscious as well.

"Everything is made per order, the food is very fresh, we chop our mushrooms here by hand and breads are brought in daily from the bakery," said Mona, an assistant manager at the restaurant. She was extremely enthusiastic about what the restaurant offers.

"Everything is reasonably priced and fair as the area goes," said Mona.

So if you're in the mood for an enjoyable, promptly-served, quality breakfast stop by the Blu Burger and check out their menu.

Although there are two other Blu Burger restaurants in the valley, the two-year-old Jomax location is the only one serving breakfast.

For more information, call their number at (480) 585-0454, or check out their website at www.bluburger.com.