Arts Festival shows Cave Creek's artistic side

By Andrew Gesell | December 3, 2008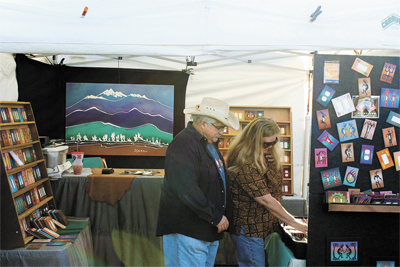 CAVE CREEK – The Cave Creek Arts Festival has been coming to Cave Creek about 25 years or more now. And with it brings a host of affordable arts merchants whose products are both innovative and stunning.

The show is known for its wide variety of products and friendly atmosphere.
Just a few of the products sold there include: Hand-done scratch board art, bird wood carvings, photography, hand-blown glass, rug weaving, pencil drawings, metal art, dog hats, and more.

When taking a stroll down the aisles you cannot help but notice how unique and ingenious everything is.

One lady takes old silverware – mainly spoons and forks, and cleverly turns them into pieces of art. Around another corner you may find a man selling real leaves cast in brilliantly colored molds. The list goes on and on.

But what's really distinctive about the show is how most of the sellers create all their art themselves by hand and tool.

Dixie Green, owner of the show emphasizes the variety of very expensive art being affordable to everybody.

This November the show had approximately 113 booths and an expected turnout of 5,000 to 6,000 people a day.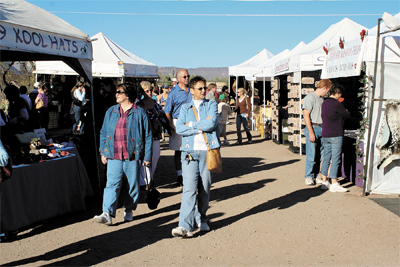 The show is known for its good turnouts by some of the sellers who have been doing it for years.

"I've had good business here," said Jim Longfellow, a regular at the show for 7-8 years.
It's a good opportunity to meet people who enjoy art.

"These customers are fine people; they all have appreciation for nature and art," said Campbell Auer, who has been doing shows almost 20 years.

Auer creates "geo-plate switches," essentially light switch covers made from earthy materials including some precious gems such as turquoise.

"Jewelry for the house," Auer called his work.

Auer also stresses the significance of returning customers.

"You become friends with them; they come back and say hello," said Auer.

The show returns to the Buffalo Chip Feb. 13-15 and March 20-22, 2009. It is returning to Frontier Town Jan. 23-25, 2009. Parking and admission are free. Hours are 10 a.m. to 5 p.m. Friday and Saturday, 10 a.m. to 4 p.m. Sundays.

For more show information you can e-mail Dixie Green at dixie@dixiegreenpromotions.com.