Ground broken for YMCA/PVCC satellite campus
By Curtis Riggs | November 26, 2008
Completion targeted for mid-fall 2009
DESERT FOOTHILLS – Ground was broken for a combination YMCA/Paradise Valley Community College campus at the southwest corner of Carefree Highway and 60th Street last week.

The YMCA/PVCC complex will initially include two buildings, one for the actual Desert Foothills YMCA, which will be a little less than 30,000 square feet, and the 10,000-square-foot George and Patricia Holland Community Center, which will also include six PVCC classrooms.

The YMCA/PVCC project is actually a three-way partnership between the Valley of Sun YMCA, PVCC and the local Foothills Community Foundation, which will move into the Holland Community Center once it is ready. The Foundation will run the programs offered at the community center.

"It will be helpful for all of us by creating efficiency so we can work more closely together," Foundation Executive Director Bre Ulewicz said of the 12 Foundation programs being operated out of the community center.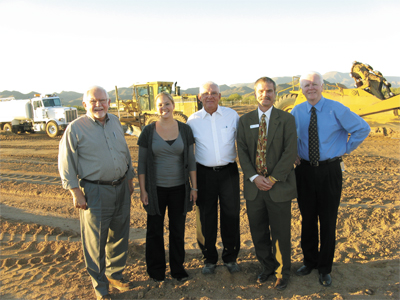 The hope is to have the community center ready by the fall of 2009 in time for the beginning of PVCC classes. Jim Reed, the YMCA Fund-raising Campaign Committee Chairman, said the YMCA building should be finished a month after completion of the community center.

Representatives of the three partners in the $13.5-million project freely admit an "aggressive construction schedule" will be needed.

PVCC Interim President Paul Dale called being together with the Y on a north Valley PVCC campus an "exciting partnership.

"Roughly 500 of our students live in Cave Creek zip codes and attend our campus at 32nd Street and Union Hills," he said. The Desert Foothills partnership is modeled after a partnership between a Y and Pima Community College in Tucson. "I can't wait until next fall when the campus comes alive."

Greg O'Brien, President/CEO of Valley of Sun YMCAs, said the "Y concept is terrific because it brings parents in and gets them involved," adding that housing the Foothills Caring Corps at the community center will be good because, "the seniors will get to know the kids."

Reed said the community center will include two conference rooms, which will be available for local non-profit groups to use for meetings.

The YMCA building will include a swimming pool, an exercise room, aerobics room, teen center, gym and two racquetball courts.

"They will be multi-generational facilities with something there for people of all ages," he said.

Photo: Foothills Community Foundation YMCA Committee Chairman Ed Smith, from left, Foundation Executive Director Bre Ulewicz, Foundation YMCA Fund-raising Committee Chairman Jim Reed, Paradise Valley Community College Interim President Paul Dale and Greg O'Brien, President/CEO of Valley of the Sun YMCAs participated in a ground-breaking ceremony for the Desert Foothills YMCA last week at the southwest corner of 60th Street and the Carefree Highway.
Photo by Curtis Riggs