Big Band Revival
By Meghan Dusanek, Cactus Shadows High School, senior

This article appears in the fall issue of "artZbeat" magazine, published by Desert Foothills Community Education as part of the "Artist in Residence" program.

Growing up, Elvin Monteleone was constantly surrounded by what he believes is the best live music in the world in New Orleans, his birthplace. "In addition to traditional New Orleans jazz and blues, big band music was a significant part of that formative experience and that has always been my favorite genre of music." Raised in Louisiana, Monteleone played piano and saxophone from early childhood through his high school years. After graduating from Louisiana State University, Monteleone pursued a business career, and he had to put his musical performance interests aside.

In 2005, he retired and formed the Sonoran Serenade Big Band (azdanceband.com).

Composed of 20 members, the band plays at a wide range of weddings, private and corporate events, and charity fundraisers across the valley.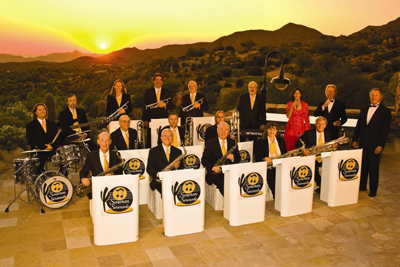 The Sonoran Serenade Big Band was formed with the goal of "perpetuating the music of the Golden Era of the Big Bands, the 'Standards' of the 1930's and 1940's". But their repertoire has expanded to over 400 songs, to include the best dance music from every era. They play everything from Sinatra to Elvis, Stevie Wonder to Michael Buble, all the way to The Beatles and classic rock.

The band was inspired by the greatest big band leaders of all time including Glenn Miller, Duke Ellington, and Count Basie. These artists created music so memorable that their songs are still popular today. In fact, as Monteleone points out, those songs are everywhere you go if you pay close attention to what you are hearing. In restaurants, retail shops, radio, TV shows, commercials, and movies, virtually everywhere, music is used to create a mood or theme. The ubiquity of this music speaks volumes about the quality and popularity of the genre.

This extraordinary band adds a touch of sophistication to any event. They have played at most of the private clubs in the area and have become regulars at many venues. The Sonoran Serenade Big Band is the epitome of hard work and high quality. Year round the five saxophonists, four trombonists, four trumpet players, pianist, guitarist, bassist, drummer, male singer, female singer and conductor get together every Monday night to practice. Monteleone believes, "Being a member of the Sonoran Serenade Big Band is musically challenging, lots of fun, and in every respect, a very rewarding experience."

Recently, the band was the headline entertainment at a fundraiser for Positive Impact, Inc. (positiveimpactinc.org), with almost five hundred guests in attendance. Wrapping up 2008, the Sonoran Serenade Big Band will perform at a Kiwanis Club of Carefree fundraiser at the Carefree Resort on Nov. 21; headline the "Holiday Swing" show at the Cactus Shadows Fine Arts Center on Dec. 12; and on Dec. 15, the band will continue its annual tradition of presenting a Holiday Concert at the Heritage of Carefree to benefit the Phoenix Children's hospital.

For more information about the Sonoran Serenade Big Band and 2009 concerts or bookings, contact Elvin Monteleone at (480) 231-6170 or bigbandmusic@cox.net.

Courtesy Photo