Holiday favorite comes back to Childsplay Theater
November 19, 2008

The Velveteen Rabbit opens Nov. 22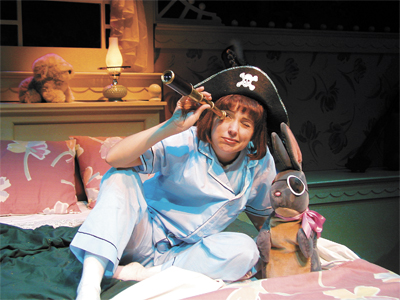 TEMPE – Childsplay, Arizona's professional theatre company for young audiences and families, continues its 2008-2009 season at the Tempe Center for the Arts with the family favorite The Velveteen Rabbit. Directed by Childsplay Artistic Director and Founder David Saar, this heartwarming tale is perfect for the holiday season. The Velveteen Rabbit opens Saturday, Nov. 22 and runs through Sunday, Dec. 21. There will be a Target Storybook Preview on Sunday, Nov. 16 at 4 p.m.

Valley audiences welcome the return of The Velveteen Rabbit, which ran for seventeen consecutive seasons from December 1988 to December 2004. Longtime Childsplay favorites Katie McFazden and Dwayne Hartford will reprise their roles as the Velveteen Rabbit and Nana respectively. Kristin Hailstone returns as the Nursery Fairy and Debra K. Stevens (who played the Boy for a number of seasons) will narrate the story. Jon Gentry has a cameo role as the voice of the Tin Soldier. Rounding out the cast are Andrés Alcalá as the venerable Skin Horse and newcomer Jannese Davidson takes center stage as the Boy.

The Velveteen Rabbit is based on the well-known children's book of the same name by Margery Williams, adapted for the stage by Brian Burgess Clark. This classic tale introduces us to a young boy who receives a Velveteen Rabbit one Christmas. Although the other toys shun the Rabbit at first, he learns from the Nursery's elder statesman, Skin Horse, that he can become real through the love of the boy.

Tickets are $25 for adults and $20 for students, seniors and children. Balcony Two level seating is $20 for adults, and $15 for students, seniors and children. Additional box office fees may be charged.

The Tempe Center for the Arts is located at 700 W. Rio Salado Parkway in Tempe. For tickets call the TCA Box Office – 480-350-2822 or visit the website at www.childsplayaz.org/boxoffice.