Rare wildlife found at Jewel of the Creek, Spur Cross Ranch
By Curtis Riggs | November 12, 2008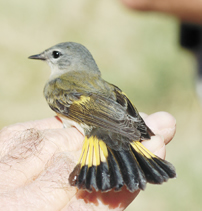 CAVE CREEK – Preservation and wildlife officials are excited about the recent sightings of animals rarely seen in the area at two preserved areas north of town.

Former Desert Foothills Land Trust Executive Director Mike Rigney found an American Red Start bird at D.F.L.T's preserved Jewel of the Creek in mid-October. Rigney, now Assistant Utilities Manager for the Town of Cave Creek, spotted the bird, which is common in the Midwest and eastern United States, while teaching a birding class at the Jewel of the Creek adjacent to the Spur Cross Ranch Conservation Area.

American Red Starts migrate to Central America during the winter. The bird seen at the Jewel of the Creek, likely on its migration, was attracted to the Jewel because of the year-round water.

"It is not really a rare bird, it was just out of place," Rigney said about the last bird identified during the two-day birding session. "It normally migrates through Texas and New Mexico. It's very unusual to see the bird in Arizona this time of year."

The sighting of the American Red Start shows the riparian area established at the Jewel and Spur Cross Ranch along Cave Creek wash has developed into a prime wildlife habitat.
"It acts as a magnet for birds that feed on insects," he said. The birds are attracted to the Jewel because of the Cottonwood trees.

D.F.L.T. Conservation Director Stacy Fischer said that because of the year-round water the Jewel is a "higher biodiversity" area. Yearly outings to identify birds rare to the area will likely take place in the future.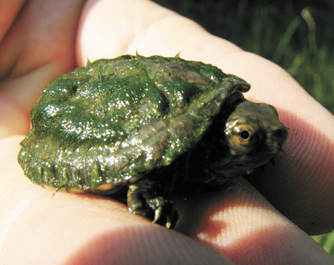 Another rare sighting in the area north of town occurred recently. A baby (neonate) Sonoran Mud Turtle was spotted in the southern portion of the 2,154-acre S.C.R.C.A. near the Jewel of the Creek by Park Ranger Kevin Smith.

S.C.R.C.A. Supervisor John Gunn said the neonate mud turtle was the first one he has seen at Spur Cross in seven years.

"We were worried they weren't reproducing, but the recent flooding flushed out enough crawdads for them," he said. Crawdads are the primary food of the Sonoran Mud Turtle.

"It shows that two adults found one another, produced eggs and had a successful reproduction," he said.

Gunn credits the floods, which have occurred since the 2005 Cave Creek Complex Fire, for the discovery of the baby mud turtle.

"They created a window of opportunity for the turtles to reproduce successfully," he said, adding the proliferation of the crawdads had much to do with the successful mating and birth.

"It indicates the system is in recovery mode from the human disturbance (grazing)," he said. "There are now year-round plants available for wildlife."

Top photo: An American Red Start bird was spotted at the Jewel of the Creek last month while on its annual migration to Central America.
Courtesy Photo/Mike Rigney

Lower photo: Spur Cross Conservation Area Ranger Kevin Smith discovered this baby (neonate) Sonoran Mud Turtle on Spur Cross near the Jewel of the Creek recently.
Courtesy Photo/Kevin Smith