Rising stars of classical music to perform
November 12, 2008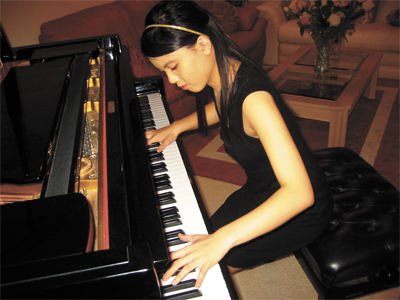 SCOTTSDALE – On Sunday, the Arizona Musicfest Young Artists Concert salutes Arizona's finest young artists, the 'rising stars' of classical music, with featured performances by 2008 Young Musicians Competition finalists Jennifer Chiang, piano and flute; Ho-Young Ahn, clarinet; Usha Kapoor, violin; and Karen Nguyen, piano.

In a Young Artists Concert "first," the instrumentalists are joined by two of the Valley's promising young opera singers: Rebecca Zaner, soprano; and Phillip Stoddard, baritone. Zaner trained this summer in Lucca, Italy as part of the Opera Theatre and Music Festival of Lucca sponsored by the University of Cincinnati's College Conservatory of Music. Stoddard placed in the top 30 singers in the United States at a recent national Classical Singer High School Competition, and was a finalist of the Herberger Young Artist Competition.

Rounding out the program is The String Quartet of the Southwest with Michael Shu, violin; Carlie Brown, violin; Carolyn Snyder, viola; and Rajan Kapoor, cello. Brown received the Scottsdale Center Stage Award for Student Conductors, and is a member of the Youth Symphony of the Southwest. Kapoor is familiar to desert foothills audiences, having won top honors at the 2007 Arizona Musicfest Young Musicians Competition with his string trio. Shu is concertmaster of the Youth Symphony of the Southwest. Snyder won top prizes in the Virtuoso Violas Competition, including First Place in 2007.

According to Ms. Chris Warsaw, managing director of Arizona Musicfest, "If you're looking for exciting, polished performances, this is a not-to-be-missed concert!"

"Expect to hear top notch music as varied as the musicians" says Warsaw. The afternoon's concert is designed to be an engaging and inspiring experience for young concert-goers, age five and up, who will enjoy the ten minute segments performed by each artist.

With free tickets for students under eighteen, this is a wonderful opportunity to introduce children to live music. And, students who play instruments may be inspired to take their practice to a higher level. There will be a "Meet the Artists" reception following the concert, so students and audience members can ask questions and chat with these "rising stars" in a relaxed setting with refreshments.

The Arizona Musicfest Young Artists Concert is at 3 p.m., Sunday, Nov. 16, in the Chapel at Pinnacle Presbyterian Church located at 25150 N. Pima Rd., Scottsdale (NW corner of Pima & Happy Valley Road). Tickets are available at the door: free for children under the age of 18, and $10 for adult tickets. Call Arizona Musicfest at (480) 488-0806 or visit www.azmusicfest.org for more information.


Courtesy Photo/Arizona Musicfest & Karen Nguyen
One of the talented "rising stars" of classical music who will be performing at Sunday's Arizona Musicfest Young Artists Concert at Pinnacle Presbyterian Church, Karen Nguyen will perform "Nocturne No. 4 in E-flat Major, Op. 36" by Gabriel Faure and "Na Corda Da Viola" by Heitor Villa-Lobos.