Museum to host Southwest, miniature art shows

By Curtis Riggs | November 5, 2008
Nov. 14 through 16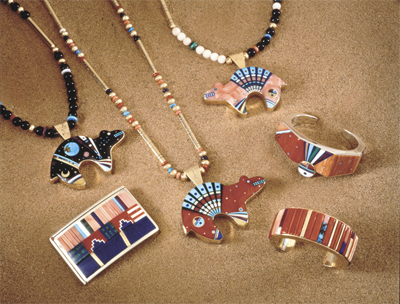 CAVE CREEK – The Cave Creek Museum will host 17 Native American and Western artists at a "Southwest Artisan Marketplace" the weekend of Nov. 14 through 16 at its Basin Road facility.

A rare $58,000 Bear necklace is being donated by world-famous Navajo jeweler and former Cave Creek resident Jesse Monongya, that weekend also. Monongya, who lived in Cave Creek in 1976 and 77, will present the rare, valuable necklace to museum officials during the Friday reception.

The artist's weekend at the museum begins with an artist "miniature show" from 5:30 until 8 p.m. Friday, Nov. 14, featuring smaller paintings, sculptures and mixed media pieces.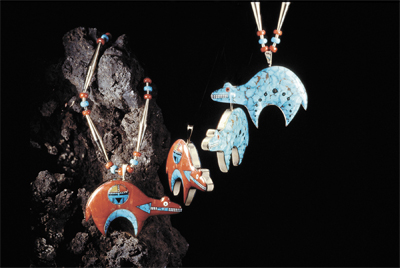 Exhibitors in the "miniature show" will include local artists Virginia Brooks, Randy Galloway, Ceil Goslin, Dustin Lyon, Eric Manuelito, Dick Mueller, Jerry Sieve and Beth Zink. Valley music favorite Olson will set the tone for the Friday reception.

Tickets to the Friday reception are $25.

The "Southwest Artisan Marketplace" will continue from 10 a.m. to 5 p.m. on Saturday, Nov. 15 and 10 a.m. to 3 p.m. on Sunday. Nov. 16. Monongya will discuss his work and techniques at 1:30 p.m. on Saturday.

Marie Wittwer, shop manager of the Heard Museum North museum gift shop, will discuss "how to build your bling" for jewelry collectors seeking to increase their collections from 1 to 2:30 p.m. on Sunday.

The weekend activities at the museum are free except the Friday reception.
Museum Executive Director Evelyn Johnson called it an "understatement" to say the museum is excited to host an artistic weekend of the magnitude of the "miniature show" and the artisan's marketplace.

"We are thrilled to showcase such a talented group of artists and we are honored that Marie Wittwer and Jesse Monongya will be guest speakers. And when we learned Jesse will make such a generous donation to our permanent collection during our Friday evening reception, we were stunned," Johnson said. "It truly ranks as one of the most valuable donations to our museum in recent years."

Courtesy Photo:
On display at the Southwest Artisan Marketplace will be jewelry by the renowned Navajo artist and former Cave Creek resident, Jesse Monongya.