Hidden in the Hills studio tour coming up later this month

By Curtis Riggs | November 5, 2008

Annual S.A.L event on Nov. 21- 23 and 28 - 30

DESERT FOOTHILLS – The Sonoran Arts League will hold its signature event the weekends before and after Thanksgiving.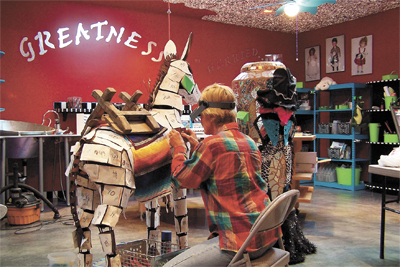 The studios of 46 S.A.L. artists will be open Nov. 21 through 23 and 28 through 30 for the 12th annual Hidden in the Hills artist studio tour. There will be 150 artists creating their art in the studios, which are spread out over Cave Creek, Carefree and north Scottsdale.

Hidden in the Hills has become the largest artist studio tour in Arizona in the 12 years it has drawn art patrons to the Desert Foothills. Hidden in the Hills art studios will be open from 10 a.m. to 5 p.m. the two weekends of the tour.

Hidden in the Hills committee co-chairperson Carole Perry expects record crowds for this year's event based on the number of past Hidden in the Hills attendees who have already called her asking about the dates for this year's event. She has received calls from art lovers on the East Coast and in the Midwest.

"Hidden in the Hills benefits more than just us," she said. Restaurants and hotels benefit from the influx of visitors.

S.A.L. President Ralph Deuschle is excited about the number of studios and artists participating this year, making it the largest one since its inception.

"Not only do we have several new artists this year, Hidden in the Hills attracts fine artists who don't exhibit their work at galleries or at shows, but choose to open their studios during the tour," he said.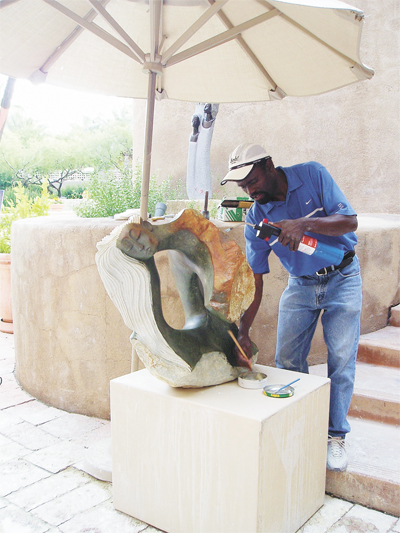 Being able to watch artists creating their art in their own studio environments seems to attract large numbers of art patrons year after year.

"That is what makes it so unique," Perry said. "People can come into our homes and studios and see the tools we use."

Hidden in the Hills visitors can get to each studio by following the lizard signs for the tour. Hidden in the Hills maps and programs can also be found throughout the Desert Foothills.
People can create their own Hidden in the Hills tour maps by visiting the website www.HiddenintheHills.org.

A Hidden in the Hills preview reception will be held at the Desert Foothills Library in Cave Creek from 6 to 9 p.m. on Saturday, Nov. 15.

Courtesy Photos:
Getting to see artists at work in their studios is the unique attraction of the Hidden in the Hills Studio Tour. Shown with their works in progress is Sculptor Gedion Nyanhongo and Mosaic artist Sandi Siferd