DMX – just another day in court
By Linda Bentley | October 29, 2008
Criminal justice system invokes the jerk penalty
CAVE CREEK – Tanner Johnson, Donald Baker and Erica Elrod were appearing in court for their pretrial hearing on minor consumption of alcohol charges, class 2 misdemeanors, and an additional charge of disorderly conduct against Tanner.

Town Prosecutor Mark Iacovino told the three he was surprised they didn't have priors, as their high BAC (blood alcohol content) indicated this was not something new to them.
Apparently someone had broken into a vehicle and a guy in the Circle K surveillance video was dressed exactly like Baker, who appeared in court wearing his pants hanging down below his butt.

Iacovino explained the plea agreement he was willing to offer the three, as he turned to Johnson and said, "Yours is a little different. There's a jerk penalty in the criminal justice system."

Apparently when deputies questioned the three about the vehicle at the Circle K that had been broken into, Johnson became belligerent and attempted to kick one of the deputies.
The agreement included attending an alcohol screening program at their expense and minimal fines, although the fine was slightly higher for Johnson.

When Judge George Preston asked if he attended school, Johnson responded, "No, I work."
Preston asked, "What kind of work do you do?"

Johnson said, "I'm out of a job right now but I'm getting a job waterproofing buildings."
"How do you do that?" asked Preston.

Johnson replied, "I don't know. A friend is getting me the job."

When it was Baker's turn, Preston told him he looked more like a gangbanger and said, "Next time wear a suit. You have one don't you?"

"Yes," responded Baker.

"Do you go to school?" asked Preston.

"No, I'm trying to find a job," Baker replied.

Preston then asked, "Are you living at home?"

Baker responded, "No, I have my own place."

Preston wondered, "If you don't have a job, how are you paying rent?"

Baker said he hadn't needed to yet.

When Preston asked what he was drinking when they were arrested, Baker said, "Jack."

Elrod was up and said she too was drinking "Jack."

She told Preston she too was unemployed, had a GED and was going to be enrolling in junior college.

The sentence imposed included attending alcohol screening and a fine of $150 plus $20 court costs.

Although the three were arrested and booked into the Fourth Avenue Jail for less than 24 hours, due to Johnson's behavior, because they were all unemployed Preston did not charge them jail costs, which are now $189 for the first day and $72 per day thereafter.

Brittany Tarver, the ex-wife of accused murderer Justin Lunsford, was granted a continuance to Dec. 19 on charges of driving on a suspended license, no insurance and speeding.

Jeri and Gary Rust were in court for their pending charges of disorderly conduct and interfering with a government worker, which began as a sign ordinance violation complaint, for which they were never cited.

Things appeared to escalate when Deputy Town Marshal Bobby Hernandez, by neglecting to follow procedures outlined in the ordinance for dealing with such violations, attempted to seize their property without authority.

The Rusts appeared with counsel, who requested a continuance, citing he had only received the report the night before and had not yet had the opportunity to read it. Their pretrial conference was also granted a continuance to Dec. 19.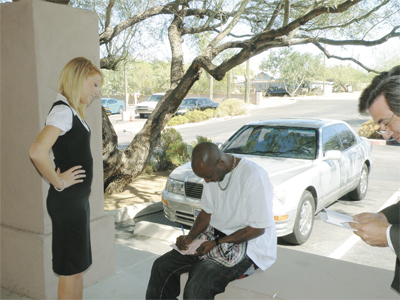 Earl Simmons, the rap artist known as DMX, appeared in Cave Creek Municipal Court on Friday to clear up a host of traffic violations.

Hernandez approached Simmons, who was waiting to be called for his case, and asked if he could take his picture and have Simmons autograph it for him.

Hernandez led Simmons over to a less populated section of the courtroom to take his picture before hunting around for a marking pen so Simmons could autograph it for him.
Appearing before Preston, Simmons pled guilty to driving on a suspended license and no ID. Preston noted Simmons had another citation for driving with suspended plates, no Arizona registration and no insurance.

Simmons explained his license was suspended because he owes child support and said MVD will not reinstate his license or his passport, which is also suspended, as long as he owes child support.

Preston fined Simmons $585, the mandatory minimum for driving on a suspended license, $150 for no ID and $20 in court costs.

Referring to news reports about Simmons, who had warrants for his arrest in Phoenix, entering a hospital in Florida instead, Preston looked up at Simmons and said, "Rumors of your illness were greatly exaggerated. You're OK now?"

Simmons responded, "Yes, thank you."

It appears fame is still hanging on for Simmons while fortune now apparently eludes him.
His home on Carlise Road in Cave Creek was sold at trustee sale last month for the approximately $450,000 owed.

Last year the IRS filed an income tax lien against Simmons in the amount of $663,555; in January, American Express obtained a judgment against Simmons and his wife Tashera in the amount of $67,977; and, last month Amusing Diversions Inc. obtained a judgment against Simmons and Dogwear Inc. totaling 281,546.

But that's just the small stuff.

Simmons, 37, was in his heyday during the late 1990s as rap artist DMX. He subsequently appeared in numerous movies and penned an autobiography in 2002.

However, his recent encounters with the law that have been piling up on him still pale compared to the 2006 ruling ordering Simmons to pay $5,000 a month in child support to Davita Oden, after a paternity test proved he was the father of her then four-year-old child.
Although married to Tashera since 1999 and the two have four children, Simmons was recently ordered to pay another $5,000 a month in child support to Monique Wayne, after DNA tests proved Simmons was the father of her child born in 2004. Simmons not only denied having relations with Wayne, he went so far as to claim Wayne must have raped him while he was sleeping after they met at a club in Washington D.C.

Earlier this year, a court awarded Wayne $1.5 million in damages against Simmons.

As Simmons stepped outside the courthouse on Friday to have a cigarette while awaiting his paperwork, Amber Chalfin, appearing in court on a violation of her own, followed him out to ask for an autograph.

Photo: Town Prosecutor Mark Iacovino (r) appeared amused as Amber Chalfin asked Earl Simmons, known as rap artist DMX, to autograph her minor consumption of alcohol citation in front of Cave Creek Municipal Court on Friday, where Simmons was also appearing for driving on a suspended license and having no ID.
Photo by Linda Bentley