Victorian home again on market
By Curtis Riggs | October 29, 2008
Foster, O'Toole home at entry to Spur Cross one of a kind
CAVE CREEK – One of the most unique and remarkable homes in the community is once again on the market.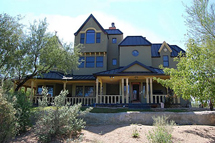 Prudential American Realtor Annie Kuhn is marketing the Victorian home built by the Norman Foster family that sits at the entrance to Spur Cross Ranch. When the Fosters moved to Colorado several years ago they sold the property, which includes a guesthouse and is bounded by Spur Cross on the north and the Jewel of the Creek preserved area on the south, to Jim O'Toole and his family. The home, which has had Hollywood movies filmed there including Flirting With Disaster, sits on the banks of Cave Creek wash.

The asking price for the 4,895-square-foot recently remodeled home that sits on five acres is $2.250 million.

It includes five bedrooms, four bathrooms and has a theater and game room in the basement.

The true beauty of the home is it's bounded on at least two sides by areas that will be preserved forever.

"We have to find that unique individual who wants that kind of home and lifestyle," Kuhn said about who will be attracted to the three-story home, which provides magnificent views.
The home includes all the modern amenities a person could ask for including four refrigerators, two dishwashers and a grand staircase leading to the second and third floors that Kuhn says she 'expects to see Miss Kitty walk down" every time she sees it.

Access to the theater and game room in the basement is gained when one touches a wall panel in the living room to reveal another circular staircase.

"It is perfect for animals and watching wildlife," she said about the outside of the home, which is enhanced by having the creek in it and a waterfall that cascades into pools the Fosters built.

The property includes another five acres in addition to the five-acre parcel the home sits on. "It's a one-of-a-kind home with the covered porch running around the main house," Kuhn said.

To learn more about the home visit www.anniekuhn.com or call her at 480-488-1116.