Split commission favors Thorstenson's plan
By Linda Bentley | October 22, 2008
CAVE CREEK – With the first step toward rezoning one or more acres in Cave Creek being a major general plan amendment, T.C. Thorstenson was before the planning commission on Thursday to present just that for his approximately 5.5 acre parcel behind Hammerhead Jack's.

The meeting, however, seemed to focus less on the criteria for the requested change in land use from very low-density Desert Rural Residential to Commercial Core and more on building materials, air conditioning and parking requirements for the enclosed event arena Thorstenson claims he plans to build on the controversial parcel.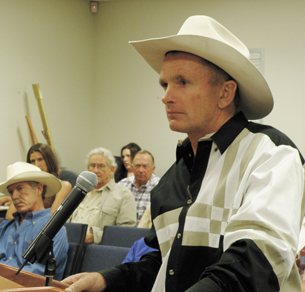 Thorstenson said the enclosed arena could be used for art shows, car shows and equestrian events without concerns about the weather or expensive art getting dusted outside.

He said "When people come to the rodeo grounds from Phoenix, they don't come to town afterward, they go home."

When Vice Chairman Jim Bruce asked how big it would be, it took a roomful of citizens to calculate 51,000 square feet. Bruce then asked if he planned to hold shooting events.
Thorstenson responded, "Yes, that could be one of the events."

Chairman Ted Bryda asked if it would be enclosed with hard material such as wood.
"Yes," Thorstenson responded.

During public comment, Harold's managing partner Bill Vale told the commission, "Start at the west end of town … look at all the empty buildings … You can look around town – times are tough. We need to figure out how to get people into this town. I support TC's plan. The town needs events."

With development fees and sales tax drying up, Vale said, "TC's property – I can't think of a better use."

Adam Trenk said he moved to Cave Creek to be a part of the town. "I wouldn't have come if it weren't for Wild West Days."

Don Asakawa said he didn't believe it was an appropriate use adjacent to Gateway Park.
Rhonda Osborne said, "I support TC in his proposal … We have someone living in our town that rides a buffalo through a ring of fire. I strongly suggest you look at what this person can bring to the town."

Andrea Markowitz said, "Great venue, wrong location," citing Thorstenson already owns commercially zoned property in the town core.

Steven Sample said, "Those in opposition don't have the town's best interest at heart."
Frank Siskonski expressed support and said it was "surrounded by commercial and a derelict park."

Susan Natker, rebutted claims Vermeersch Road was already being used for commercial access to Stagecoach Village. And, as to Thorstenson's claim of no impact, Natker said, "That's not true. Until 1994, Stagecoach Village was also residentially zoned."

Herb Natker asked, "Is this about a general plan amendment or a site plan?"

Arlie Gross told the commission, "You'll use common sense. It will bring business. It's a perfect fit – I support it," and joked, "I'll be bringing in an application for a topless bar next week."

Charles Spitzer said he agreed with the concept of what Thorstenson was trying to do but asked, "Why is he not using his commercially zoned property?"

Anna Marsolo provided a little history on prior attempts to rezone the property in 1999, 2001 and again in 2005 and said, "The more you rezone to commercial the more you change the character of the town … tampering with zoning will have a domino effect. There's no guarantee you'll ever see an arena built."

Paula Chacon angrily admonished the commission by saying, "You've done nothing for the community. There's nothing for kids to do besides have parties in the washes and do drugs. To deny this is insane. You have to start paying attention to us."

Francis Fonti, who owns the strip mall where Binkley's and Enterprise are located, was very much opposed and said, "Vermeersch can't handle that kind of traffic. He'll make a lot of money but I'll lose my tenants. If he has nine acres, why isn't he looking at that?"

Gail Clement said, "I absolutely think this is a great idea – wrong location. I'm puzzled. He has another location with access and zoning."

Louie Majors said, "There's no real Gateway Park. There's lots of agendas. TC might have lots of properties but this is America and he has a choice. The same people who oppose this oppose everything else."

Thorstenson responded by saying, "Yes I do have nine acres across the street. It's hard to get to with horses," and said he has other plans for that property.

"I've been in the entertainment business for 30 years," said Thorstenson, who claimed his events will be "second to the Grand Canyon" as a tourist attraction in Arizona.

Commissioner Steve LaMar commented on the site's small size with concerns about parking.
Thorstenson said there was enough room for about 250 parking spaces.

Commissioner Bob Williams asked Planning Director Ian Cordwell about the easement through Hammerhead Jack's property and if the arena could be built in Commercial Buffer.

Apparently the easement would only be valid if the rezoning is granted but specifically states it's not for public use.

Cordwell said the proposed use requires Commercial Core Zoning with a special use permit and acknowledged access could be an issue.

Williams said it always looked to him like a bad political compromise, referring to the access issue and no frontage on Cave Creek Road.

Commissioner Dan Baxley said the property begs to be CC.

Commissioner Bill Allen mentioned a number of uses proposed for the parcel over the years and said he always thought it should be commercial.

Bruce said he liked Thorstenson's spirit but stated, "It's not a cowboy issue or a sales tax issue. It's a bad location. I won't be supporting."

LaMar said, "It makes no sense … cramming a lot onto a small piece of property with no access. We've always thought this property should be commercial. I don't think an arena will ever be built on that property."

Baxley said, "I think it ought to be commercial. The arena is another story."

Commissioner Reg Monachino said he agreed with Baxley and stated it looked and smelled like commercial.

Commissioner Ted Bryda said he had a basic problem with the access.

The commission voted 4-3 in favor of recommending approval with Allen, Baxley, Monachino and Williams voting to approve.
Photo: T.C. Thorstenson told a packed planning commission meeting on Thursday, "It is in times like this we need to band together. I want to bring an event arena to Cave Creek – A Western Cultural Center."
Photo by Linda Bentley