Past remembered, future anticipated at library grand opening
By Curtis Riggs | October 22, 2008
It's official for new 18,900 square-foot facility
CAVE CREEK – How the Desert Foothills Library has grown and changed over the years was exemplified last week when the grand opening for the 18,900-square-foot facility on Saguaro Hill was held.

Many of the speakers at the ribbon cutting for the new $3.8-million library talked about how it had grown from an entity where books could be borrowed from a bar or the trunk of an enterprising woman's car to the current library, which now registers 200 new members a month.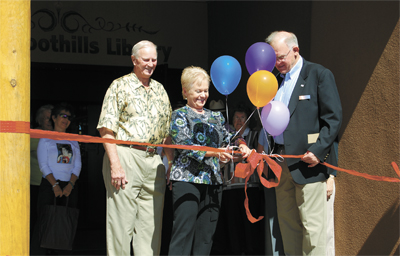 "It's a real celebration," Library Executive Director Kris Proskus said about the event, which attracted officials from both Cave Creek and Carefree along with representatives of the Maricopa County Library District. "But it's only the beginning of everything we have yet to do."

What is yet to be done at the library is managing the myriad of new children's and adult programs there and properly serving the 200 new library cardholders every month. A new circulation desk manager has been hired to help the library achieve its second goal, which is overseeing all of the volunteers helping out and instilling more consistency at the library front desk.

Proskus was "delighted" a crowd of over 100 showed up for the grand opening to celebrate the culmination of three years of hard work spent to get the new facility open.
"What you have accomplished here is amazing," remarked Harry Courtright, Director of the Maricopa County Library District, as he commented on the fund-raising efforts and the building of the new library.

Carefree Mayor Wayne Fulcher said the construction was accomplished because those behind it had a clear vision and were "committed."

Cave Creek Mayor Vincent Francia thanked those involved for "not only adding space to store our knowledge" but also because it is a testament to Cave Creek's love of the Sonoran Desert.

"They created an atmosphere where every window you look out has a beautiful view of the desert," he said about the magnificent views of Black Mountain and Spur Cross.
Photo: Desert Foothills Library Executive Director Kris Proskus, with a little help from the library board's chairman Jon Coates, cuts the ribbon to signify the official opening of the new library.
Photo Courtesy/Barbara Kocas