Foothills Academy's 5th Hour Band rocks the house

SCOTTSDALE – Visit Foothills Academy College Preparatory in north Scottsdale after lunch and you'll find, among the many students engaged in a variety of elective classes, a group of nine high school students fully engaged in the business of "making music." This enthusiastic band of sophomores, juniors, and seniors gather on a daily basis to practice the instrumentals and vocals for songs they've chosen to learn as a group. Once they've practiced and perfected their musical selections, the group performs at Foothills Academy's Friday morning assemblies.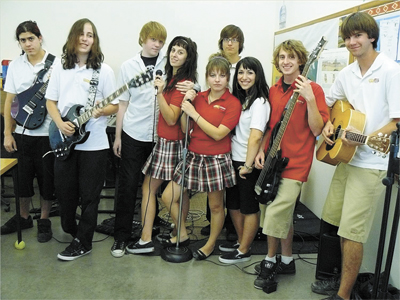 Cary, the lead guitarist for the FA 5th HR Band, aspires to be a professional musician and is fortunate to be interning at Scottsdale Studios, a rehearsal studio/sound stage located in north Scottsdale. Although not required for class enrollment, the majority of the band members have taken music and/or vocal lessons outside of school.
Under the direction of Dr. Donald S. Senneville, Director and Principal of Foothills Academy College Preparatory, the student band plays music originally performed by bands the likes of the Beatles, Eagles, Weezer, Bob Marley, Jimi Hendrix, and Miley Cyrus. The student musicians and vocalists benefit greatly from Dr. Senneville's years of experience as a professional musician and singer himself. They appreciate his talent, instructional advice, and that "special" sense of humor only musicians can fully appreciate. And one has no trouble telling that Dr. Senneville enjoys teaching the Foothills Academy 5th Hour Band just about as much as the band members enjoy playing!