Zink to offer artistic team building for businesses

By Curtis Riggs | October 1, 2008
"Paint, Create, Collaborate"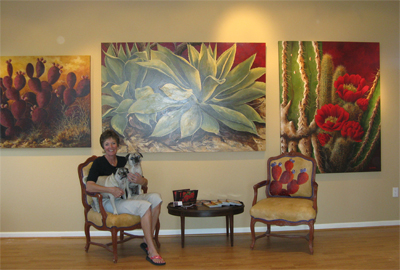 CAVE CREEK – Artist Beth Zink is striving to show that anyone can paint with her new "Paint, Create, Collaborate" workshops designed as a team building activity for businesses.

She sees her new team building effort as something that is needed in the present economic downturn.

"Now more than ever business professionals need to tap into their creativity to deal with increased pressures at work and all that comes with trying to succeed in these tough economic times," she said.

Teaching people about art is nothing new for Zink. The accomplished acrylic artist, best known for her vibrant contemporary botanicals, has taught a "Paint the Desert" class for resort visitors as an alternative to golfing or taking a desert jeep tour.

She has adapted her "Paint the Desert" offering to accommodate both local and visiting business professionals.

"My team building workshops provide an alternative to the golf retreat or other off-site activities," she said. "Each class is based on my philosophy of teaching adults in a relaxed atmosphere with enthusiasm and humor. The best part is that no prior art experience is necessary."

She is excited about the prospect of teaching her art to business-minded adults who may have abandoned their creative sides long ago. She adds that some adults are afraid to take up art.

"Sometimes they look like they are going in for a root canal," she said about what she has seen as an art teacher. "Many people stop the creative process when they become adults."

To learn more about her team building workshops visit her website at www.bethzinkart.com.

Photo by Curtis Riggs
Beth Zink's two Chinese pugs roam her 700-square-foot studio when she teaches
team-building art workshops.

Art Extravaganza coming this weekend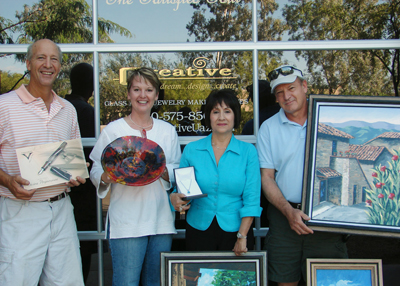 Courtesy Photo

The October Art Extravaganza on Oct. 3 and 4 at Carefree Studios, 7202 E. Cave Creek Road, is benefiting the Foothills Foodbank by donating 10 percent of all sales. Shop for amazing bargains in fine writing instruments, paintings, glass art and jewelry while enjoying music and delicious refreshments from 10 a.m. to 5 p.m. both days. Pictured with examples of the items that will be on sale (l. to r.) are Tony Turchetta of Penworks, Kathleen Doherty of Creative U, Virginia Magnifico of Palomino Jewelers, and Howard Bertram of Bertram Graphics. For more information call 480-575-8500.