Ramos and Compean fundraiser on Saturday
By Linda Bentley | October 1, 2008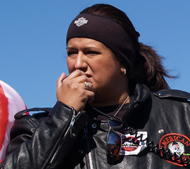 A presidential pardon may be only hope
PHOENIX – Citizens are invited to join the ride or just join the day this Saturday, Oct. 4 to keep a spotlight on imprisoned Border Patrol agents Ignacio "Nacho" Ramos and Jose Compean, who are serving 11 and 12-year prison sentences, respectively, and to raise money to help support both their families.

MORE ...

'Taste' was great, but lines were lengthy
By Curtis Riggs | October 1, 2008
Stagecoach Village star of the evening
CAVE CREEK – Despite the huge crowd and long lines for food last week's Taste of Cave Creek is being called a tremendous success. The $26,000 raised will allow the Cave Creek Merchants Chamber to increase their efforts in support of Cave Creek businesses.

MORE ...

Let's hear it for the band!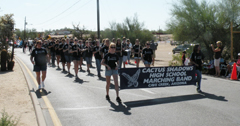 The 80-member Fightin' Falcons Marching Band, under the direction of CSHS Music Director Gary Wykoff, smartly led last Saturday morning's parade down Cave Creek Road, kicking off "Homecoming Week" at Cactus Shadows. For Thursday-Saturday schedule of Homecoming events go to www.ccusd93.org.



Three-day economic conference highlights best of both towns
By Curtis Riggs | October 1, 2008
Trip to Spur Cross a huge hit
CAREFREE – The two mayors who hosted last week's Rural Economic Development Conference were a bit surprised by some of the questions asked by visiting economic development officials but they are used to showing off their communities.

MORE...

Criminal charges filed against Karen Seemeyer
By Linda Bentley | October 1, 2008
Advocate still selling ad contracts
MESA – Readers continue to ask what's going on with Karen and Tom Seemeyer, owners of the apparently defunct Desert Advocate.

MORE ...