Heidi Boutique offers the best in women's fashions


By Curtis Riggs | September 24, 2008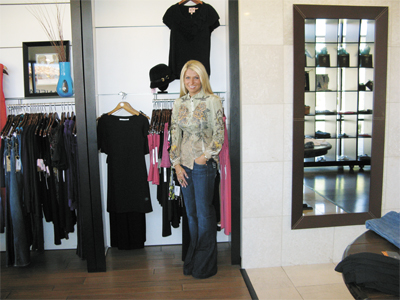 SCOTTSDALE – It is safe to say Heidi O'Brien has a real passion for fashion.

Since she opened Heidi Boutique in the Villages at Pinnacle Peak center near Jomax and Alma School roads three years ago she has built a large clientele.

Stopping in to see the latest in the Fall and Spring trends, checking out their favorite brands and stopping by to talk fashion is not all that keeps clothing-conscious shoppers coming back to Heidi Boutique. They also find their way to the shop near the Four Seasons Resort to check out the year-round 75 percent-off end-of-season sales. The growth of the Pinnacle Peak area has also helped to turn Heidi Boutique into a fashion destination.

"I always loved fashion and I love to shop so I decided to turn my passion into a business," Heidi said. She loves operating her own boutique.

She also understands a woman's love of a good deal. "I like to have sales year-round. Many of my customers are sales shoppers."

Heidi's true love of fashion kicks in when one of her regular customers calls to let her know she is coming in. She then pulls out the latest and best in the Susana Monaco dresses and tops, Michael Stars T-shirts, Theory pants and tops, Gypsy 5 casual dresses and Jeans 7 pants. She places her selections in the three spacious dressing rooms at Heidi Boutique and lets the women choose what they like best. Of course that comes with some sage fashion advise from the Fashionista herself.

Many times the women prefer to try on what Heidi is wearing that day.

She says this year's Fall trends will include lace and added, "They are steering toward brighter colors," offering burgundies and deep emeralds as examples.

"Jeans are becoming more classic," she said about another Fall trend. "They will be darker with more clean, straight lines."

Heidi has a strong sense of community and believes in giving back to the neighborhood where she lives. She has a Shop Night monthly where she donates ten percent of her sales to either the Cave Creek or Scottsdale school systems.

"It's a nice way to give back to the community," she said.

To find out more about Heidi Boutique visit the website Heidi Boutique.com. The boutique is located at 10428 E. Jomax Road, Ste. 103. The telephone number is 480-663-7777.